We appreciate hearing about experiences using AAACN products and services!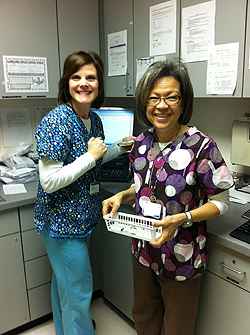 Listed below are testimonials from people like you who have had a positive experience/outcome from using an AAACN product. If you would like to submit a testimonial, please fill out this small form.
For the Certification Review Course
"The review course was a good jumping point to direct study. I also purchased the Core Curriculum and the Review Questions texts, which helped me identify the things I needed to review. I am a specialty/subspecialty nurse, so the clinical content far-removed from my field made me a bit nervous. I felt the test was similar to most tests now in terms of verbiage, looking for critical thinking, etc."

Given by:
Mary Smith, BSN, RN-BC, C-EFM
University of Chicago Medicine
Chicago, Il
Passed the exam June, 2015

---

"I attended the Ambulatory Care Nursing Certification Review Course in May 2014 at the conference. I am very happy with that experience. I took my exam on July 20th and passed. Thanks so much for making the Review Course available. I have told all of my friends about the workshop and anticipate many of them will be attending one in the future!"

Given by AAACN member:
Amy Mekan, MSN, RN-BC
Bernie, MO
Passed the exam July, 2014
For the Care Coordination and Transition Management (CCTM) Course
"I just finished the first module of the Care Coordination and Transition Management (CCTM) Course and loved it- very informative, encouraging and applicable to my current role! I intend to complete another module each week, and I know this will benefit ambulatory nursing practice and improve patient outcomes dramatically!!! This is a wonderful opportunity, and I am envisioning my institution creating awareness and encouraging the use of this material."
Submitted by:
Lea Nguyen, RN
Temple, TX
 
For AAACN Membership
"Special Interest Groups (SIGs), free CNE activities, and ViewPoint are all great resources for me in my practice in ambulatory care."

Submitted by:
Glenda Wright, MHA, BSN, BS, RN
AAACN Member Since 2009