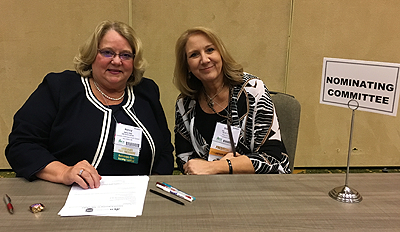 Outgoing Nominating Committee Chair and Past President (2015-2016) Nancy
May, DNP, RN-BC, NEA-BC, with Incoming Chair and Immediate Past President
(2016-2017), Debra Cox, MS, RN, CENP at the 2017 Annual Conference in
New Orleans, LA!
The Nominating Committee consists of three members, a board representative, and Immediate Past President as Chair.
Due to the integral role this committee plays in selecting future leadership of AAACN, active participation is required throughout term of ballot candidates takes place in the three months following the Conference.
Responsibilities
Identify, solicit, and nominate current AAACN members as candidates to run for elected offices.
Solicit candidates for the following year's ballot prior to transferring responsibilities to new committee at the conference.
Ensure candidates are qualified and understand time commitments for each office.
Oversee annual and any special election processes.
Review annual Award and Scholarship applications and select recipients.
Qualifications
Active AAACN member with broad organizational experience (e.g. served on SIGs, committees, task forces) to provide Committee members with general knowledge of members who are active within AAACN.
Possess skills to identify leadership qualities in individuals; willing to encourage and motivate members to run for office.
Able to attend Conference for face-to-face meeting, which kicks off the committee's work for the year. Other activities take place via conference call and email.
Comfortable with time commitment: Nominating Committee positions generally require 20-30 hours annually. On occasion, additional time may be required for special projects.
---
Chairperson
M. Elizabeth Greenberg, PhD, RN-BC, C-TNP, CNE
Members
Roslyn Kelly, MSN, RN-BC, CDE
Cynthia Murray, BN, RN-BC

Capt. Andrea C. Petrovanie, MSN, RN-BC
Board Liason
Kathleen Martinez, MSN, RN, CPN
Please call 800-262-6877, ext. 51. When you hear the recording if you wish to reach a member of the Nominating Committee by phone.