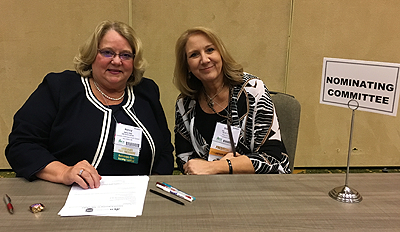 Outgoing Nominating Committee Chair and Past President (2015-2016) Nancy
May, DNP, RN-BC, NEA-BC, with Incoming Chair and Immediate Past President
(2016-2017), Debra Cox, MS, RN, CENP at the 2017 Annual Conference in
New Orleans, LA!
The responsibilities of members of the Nominating Committee are to:
Identify, solicit and nominate qualified current AAACN members as candidates to run for each elected office and present the slate to the Board for their information prior to the publication of the ballot to the membership.
Oversee the annual and any special election processes following the Bylaws and procedures adopted by the Board. Elections are governed by the Bylaws of AAACN.
Reviews the annual Awards and Scholarship applications and selects the award recipients.
If you are interested in running for national office, either on the Board of Directors or the Nominating Committee, please complete the Interest in Running for Ballot form and return to the National Office. The Nominating Committee will then receive information from the National Office about all qualified volunteers. Nominating Committee members also actively seek out members interested in running for ballot at the Annual Conference each year.
Download the "Information for Elected Positions" booklet to learn the responsibilities of each elected position and the time commitment necessary to fulfill each role.
---
Chairperson
Debra L. Cox, MS, RN, CENP
Members
Libby Barton, RN-BC
Roslyn Kelly, MSN, RN-BC, CDE
Cynthia Murray, BN, RN-BC
Board Liason
Please call 800-262-6877, ext. 51. When you hear the recording if you wish to reach a member of the Nominating Committee by phone.