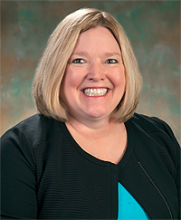 Please join us in congratulating our newly elected leaders!
President-Elect: Anne T. Jessie, DNP, RN (pictured)
Directors:
Deena Gilland, DNP, RN, NEA-BC
Christine M. Ruygrok, RN-BC, MBA
Assanatu (Sana) Savage, PhD, DNP, FNP-BC, RN-C, CDR, NC, USN
Nominating Committee:
Julie Alban, DNP, MPH, RN-BC, CCCTM
Katherine Andersen, MSN, RN-BC, CCM
---
AAACN's Board of Directors has selected Anne T. Jessie, DNP, RN as President-Elect for 2019-2020.
As a AAACN member, Anne has served on the Board of Directors since 2016 as a Director and Treasurer. She has also served on the RN Position Paper Task Force, participated in multiple Care Coordination and Transition Management (CCTM) expert panels, authored chapters in the CCTM Core Curriculum, the Core Curriculum for Ambulatory Care Nursing, 3rd Ed, and the Orientation & Competency Assessment Guide, 2nd Ed. We wish her great success as our next President-Elect.
This election marks the first year using an updated process for selecting President-Elect, wherein the Board of Directors selects the President-Elect. The change ensures that the most qualified member to serve as the President-Elect is selected to lead AAACN by those members most knowledgeable to make the selection. AAACN members approved this and other changes to the bylaws in the 2018 election. View the AAACN Bylaws.
The Board of Directors oversees the business and fiscal management of AAACN. They also provide strategic direction and active leadership for AAACN, reviewing articles, writing charters, performing liaison duties, and participating in conference calls, discussions, and decision-making.
The Nominating Committee identifies experienced members interested in leadership roles. This is a very important job, as strong vetting and careful consideration of our future leaders is essential to AAACN's growth and progress. Other responsibilities include reviewing AAACN awards and scholarship applications and selecting recipients.