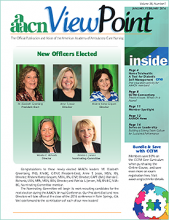 Did you know ViewPoint, the official publication of the American Academy of Ambulatory Care Nursing, holds an annual Writer's Award contest? This honor is provided to encourage members to write for publication, and to recognize excellence in ambulatory care nursing.
Published articles on topics in ambulatory care nursing practice, telehealth nursing practice, clinical research, professional development, and leadership are eligible for consideration.
An awards committee evaluates all eligible articles published each calendar year and selects the winner. The award, consisting of a certificate and one complimentary registration to the following year's AAACN Annual Conference, is presented during the conference. The winner is also announced in ViewPoint.
Doesn't this sound great? If you've been considering trying your hand at authorship, this is the perfect opportunity to get your feet wet. Writing for publication may sound scary, but don't be discouraged. We happily mentor novice authors, and once you're accepted, you can add scholarly publication to your résumé!
Guidelines for the Award
All qualifying feature-length CNE articles will be considered.
Eligible articles must have been published in ViewPoint during the given calendar year.
A winner(s) will be chosen by ViewPoint Editorial Board members based on the value to ambulatory care nursing practice, timeliness of information, and writing style.
ViewPoint Editorial Board members, column editors, AAACN Board of Directors members, and AAACN staff are not eligible to receive a Writer's Award.
Complete author guidelines and a wish list of topic ideas are available to download. Want to start a discussion with Editor Kitty Shulman first? Send your ideas to her via the author interest form.