We can help you solve the fragmented care puzzle with our groundbreaking course and core curriculum text to educate nurses on Care Coordination and Transition Management.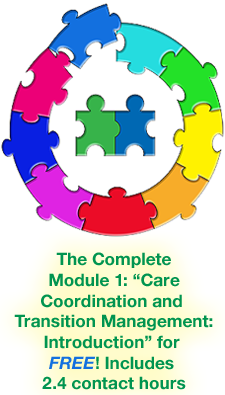 The Care Coordination and Transition Management (CCTM) online course and core define the integral role of the RN in the interprofessional team and apply to nurses in all settings from ambulatory care to hospitals. Learn more about the development of these resources.
Explore CCTM:
Have you purchased the CCTM Course? Access the course in the AAACN Online Library.
Visit the AAACN Online Library
---
The CCTM core text and course are "must have resources" for any registered nurse who is responsible for coordinating care and managing transitions. They are evidence-based, patient-centered and designed to:
Improve patient outcomes
Enhance access to quality care
Decrease hospital readmissions
Decrease health care costs
Help patients navigate the health care system
Ensure continuity and seamless transitions among levels and settings of care
Work effectively in Patient-Centered Medical Homes (PCMHs) and Accountable Care Organizations (ACOs)
Improve the individual patient's experience of care
The course includes an audio presentation, slides, and a PDF version of the corresponding core text chapter. Nurses will read the chapter prior to viewing the audio presentation. The course provides 26.4 contact hours.

Download the CCTM flyer


Learn about a Group Discount (Site License)