You are key in ensuring safe patient hand-offs.
Patients transition among health care settings, levels of care, health care professionals, and their homes. Effective communication between the patient and health care professionals paves the way for safe and effective patient hand-offs.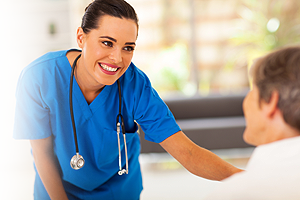 We know that poor communication and coordination among caregivers, health professionals, and the patient results in adverse events, readmissions, duplication and delays in care, increased cost, and decreased satisfaction with care. These affect patient safety and quality outcomes.
How can you make a difference in effective patient hand-offs? This toolkit can help.
Use the toolkit to:
Learn about the best tools and resources available for patient hand-offs
Customize a hand-off tool specific to your patient population/setting
Implement best practices identified in the Evidence Table
Toolkit
Use these tables to learn about the various care transition models, the appropriate setting for each model, and the commonalities among the models. You may choose to apply one of these models to your practice setting.
Table 1 provides a summary and comparison for which models work when transitioning from and to specific settings.
Table 2 provides an overview summary and comparison of the commonalities of the various models studied.
The tables are reprinted from Geriatric Nursing, Vol. 34(1), Enderlin, C.A., McLeskey, N., Rooker, J.L., Steinhauser, C, D'Avolio, D., Gusewelle, R., & Ennen, K.A., Review of current conceptual models and frameworks to guide transitions of care in older adults. Page 50. DOI: 10.1016/j.gerinurse.2012.08.003.
Copyright © 2013 Mosby, Inc., Reprinted with permission from Elsevier, Inc.
After reviewing many articles and resources, here are the most helpful available hand-off tools for your practice. The resources are grouped into four categories and many contain templates that can be customized to your own practice setting.
Project BOOST - Project BOOST® (Better Outcomes by Optimizing Safe Transitions) contains resources and implementation tools to enhance transitions of care, improve patient satisfaction, and augment the flow of information between acute and ambulatory care providers. 
Joint Commission Transitions of Care Portal - This portal is a valuable source of information from The Joint Commission enterprise and other healthcare organizations, related to the topic of transitions of care (the movement of patients between various health care settings.)
American Medical Directors Association Clinical Practice Guidelines - These guidelines focus on the transitions of care between long-term and acute-care settings, and long-term settings and the patient's community home.
INTERACT® quality improvement program from Pathway Health - INTERACT® (Interventions to Reduce Acute Care Transfers) is a quality improvement program that focuses on the management of acute change in resident condition. It includes clinical and educational tools and strategies for use in every day practice in long-term care facilities.
National Transitions of Care Coalition - an organization dedicated to addressing a serious U.S. health care issue: filling the gaps that occur when patients leave one care setting and move to another care setting.
The Care Transitions Program - provides tools, resources, and training to improve quality and safety during care hand-offs. This is under the direction of Eric A. Coleman, MD, MPH.
Project RED - Project Re-Engineered Discharge is a research group that develops and tests strategies to improve the hospital discharge process in a way that promotes patient safety and reduces re-hospitalization rates.
Hospital to Home (H2H) Initiative - a resource for hospitals and cardiovascular care providers committed to improving transitions from hospital to "home" and reduce their risk of federal penalties associated with high readmission rates.
AHRQ - Designing and Delivering Whole-Person Transitional Care - a guide to reducing Medicaid readmissions that can be adapted or expanded to better address the transitional care needs of the adult Medicaid population.
SBAR, I PASS the BATON -SBAR and I PASS the BATON -a table that describes hand-off communication to assure the transfer of accurate patient information. The SBAR format consists of four categories: Situation (S), Background, (B), Assessment (A), and Recommendation (R). This standardized communication tool provides a framework for consistent communication and has been shown in multiple studies to effectively communicate patient information and reduce adverse patient events. TeamSTEPPS® uses the mnemonic "I PASS the BATON" as a tool to improve communication during patient hand-offs and care transitions.
Joint Commission Sentinel Event Alert 58: Inadequate Handoff Communication and Infographic: 8 Tips for High Quality Hand-Offs - Health care professionals typically take great pride and exert painstaking effort to meet patient needs and provide the best possible care. Unfortunately, too often, this diligence and attentiveness falters when the patient is handed off, or transitioned, to another health care provider for continuing care, treatment or services. A common problem regarding hand-offs, or hand-overs, centers on communication: expectations can be out of balance between the sender of the information and the receiver. This misalignment is where the problem often occurs in hand-off communication.
Joint Commission Webinar replay: Better understand hand-off communication processes - A panel dove deep into a case study to examine what really causes hand-off communication errors. Listen to this replay and learn from these Joint Commission professionals.
New Take 5 podcast focuses on hand-off communication tools, strategies - Klaus Nether, executive director of high reliability product delivery for the Joint Commission Center for Transforming Healthcare, tackles the issue of inadequate hand-off communication and discusses tools and strategies
LACE - an index scoring tool for risk assessment of hospital readmission.
Project BOOST - Project BOOST® (Better Outcomes by Optimizing Safe Transitions) contains resources and implementation tools to enhance transitions of care, improve patient satisfaction, and augment the flow of information between acute and ambulatory care providers. Look for the BOOST 8P's, a screening tool to identify your patient's risk for adverse events after discharge.
Ask Me 3® - is an educational program that encourages patients and families to ask three specific questions of their providers to better understand their health conditions and what they need to do to stay healthy.
IOM - Facilitating Patient Understanding of Discharge Instructions - contains proceedings from a 2014 workshop providing an overview of the impact of discharge instructions on outcomes, specifics of inpatient discharge summaries, and outpatient after-visit summaries. The report also contains case studies illustrating different approaches to improving discharge instructions.
The Joint Commission - "What did the doctor say?" Improving health literacy to protect patient safety - is a white paper that provides recommendations for narrowing the communication gap so individuals can comprehend typical health care information provided to them. It is a call to action for those who influence, develop, or carry out policies to improve the safety and quality of health care delivery.
The care transition hand-off literature has been reviewed and analyzed for you. Over 40 articles are summarized in this table to provide the evidence behind the various models and tools. Use the Evidence Table to support your hand-off communication strategy.
Headings

Author and Citation
Level of Evidence
Sample/Facility
Strategies
Overview
Outcomes


View/download the Evidence Table
Categories are bookmarked for easier navigation.

Categories

Discharge Information Standards,
Handoff Communication,
Care Coordination
Use of Technology
Application to Your Practice
As the key to safe and effective patient hand-offs, use this toolkit to promote the quality of patient-centered care across various settings by decreasing gaps in communication, reducing adverse events, reducing costs, and decreasing readmissions.
We recommend that the models, frameworks, and tools be customized to your practice.
Future Research
Although these resources are valuable to nurses who practice in all settings as they manage patients across the continuum of care, the focus of transition of care, hand-off communication, and care coordination is primarily through the inpatient lens. With limited published studies that focus on the outpatient setting, future research needs to focus on the ambulatory care perspective.
Related Information
ACKNOWLEDGEMENT
The Care Transition Hand-off Tool Task Force, a joint collaboration of the American Academy of Ambulatory Care Nursing (AAACN) and the Academy of Medical-Surgical Nurses (AMSN), created this toolkit for members and the greater nursing community to produce the best patient outcomes. Learn more about the joint task force.