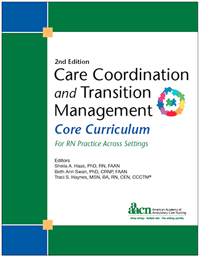 View the endorsements of the
CCTM Core Curriculum, 2nd Edition.
The Care Coordination and Transition Management Core Curriculum, 2nd Edition serves as the foundational reference for CCTM RN practice and an educational resource for undergraduate and graduate nursing students and currently practicing registered nurses in general practice, specialty roles in care coordination and care transitions.
New in the 2nd Edition:
Relevant Scope and Standards of Practice for Registered Nurses in CCTM integrated in each chapter
Pediatric and geriatric content added to many chapters
New content on behavioral health, dementia care, opioid addiction, palliative, end-of-life care, health literacy, and social determinants
Case Studies and care plans depicting the use of evidence within practice
$79 - Member Price | $109 - Regular Price
Order the CCTM Core Curriculum
Please note, AAACN members: in order to obtain the member price, please log in to your AAACN account first. You will always receive the member price or special offer as long as you are logged in to your AAACN account.
---
Special Offer
Order a copy of the CCTM Core Curriculum when you register for the course and save 50% off the special price! If you've purchased the CCTM Course and would like to take advantage of this special offer, contact aaacn@aaacn.org for instructions.
Special Offer Price: $24.75 Member Special Offer Price: $19.75