The Leadership SIG has reached a significant milestone: as of February 2017, we have more than 1,500 Leadership SIG members for the first time in AAACN's history!
---
Welcome to the Leadership SIG!
The goal of the Leadership SIG (L-SIG) is to develop and support ambulatory leaders. L-SIG members are diverse – from new leaders to seasoned experts.
The Leadership SIG provides a forum for leadership development and mentoring of ambulatory nurses who are leaders, or for those who aspire to be leaders. Via conference presentations, conference calls, website communications, Connected Communities postings and other forums, the SIG provides opportunities to share ideas, policies and procedures, and best practices among ambulatory nursing leaders.
The Leadership SIG was founded in 2004 by AAACN members who were interested in creating a forum to discuss leadership issues. Since that time, the Leadership SIG has grown and a SIG Charter was developed. Members meet annually at the AAACN Annual Conference and stay connected throughout the year via the Connected Communities (online networking community).
The Leadership SIG maintains an Advisory Board with a Chair and Chair-elect, Vice Chair(s) and additional appointed members. The leaders of the L-SIG Advisory Board and L-SIG work group members are volunteers with expressed interest in working with others to promote the purpose, vision and goals of the AAACN Leadership SIG.

The AAACN Board of Directors appoints one of the Board members as a SIG liaison to communicate SIG interests and needs to the Board.
Events
Find out if we have an event scheduled. All information will be in the
Special Interest Groups (SIGS) tab on the Events page.
Volunteers and Involvement
Many SIG members expressed interest in working on the toolkit topics or other short term projects which may occur throughout the year. Even a little involvement by many volunteer members will go a long way toward achieving our goals! If you are interested in helping or have ideas to share, please contact the SIG Chair.
Discover what this SIG was talking about at the Annual Conference.
Obtain the proper code for your SIG
.
Visit the AAACN Online Library.
Ask the Expert
Members of AAACN may submit their Leadership questions on Patient Centered Medical Home (PCMH) topics to members of the SIG who are considered experts on PCMH. Please allow up to five days to receive a response.
Ask your question.
Having fun at the Conference!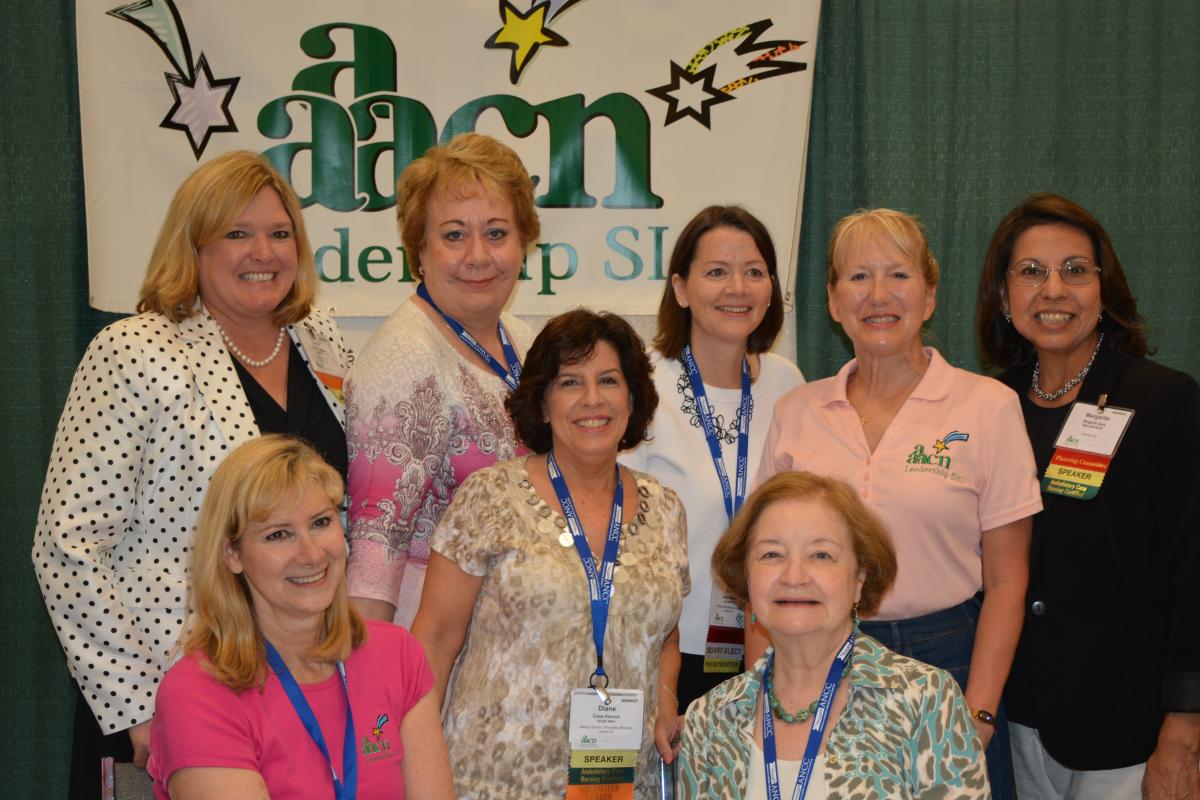 First row: Ria Ganary (outgoing chair), Diane Resnick, LuAnn Sweeney (incoming chair). Second row: Anne Jessie, Joan Pate', Kathy Mertens, Eileen Esposito, Margarita Gore. Missing: E. Mary Johnson, Roslyn Kelly, Chris Ruygrok (chair elect).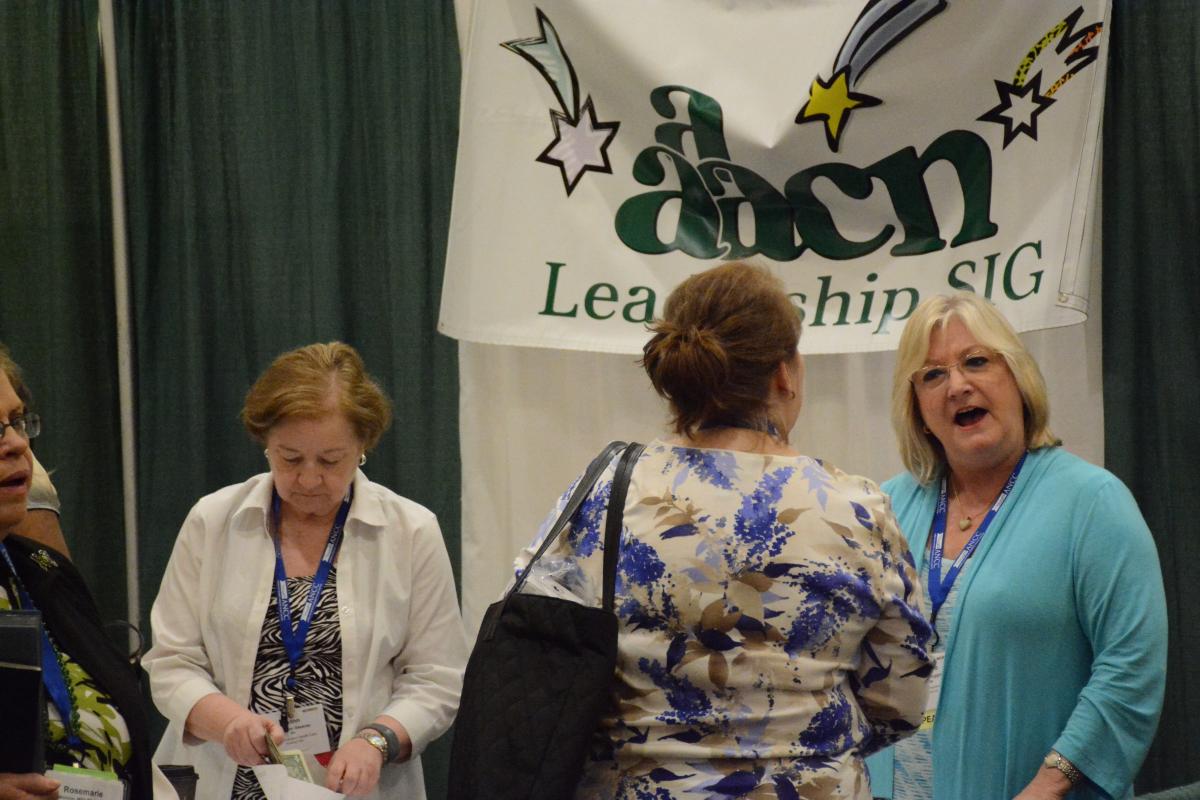 Members of the Leadership SIG who staffed the booth at the 2015 Orlando conference.
The Leadership Toolkit is an ever growing document maintained by the AAACN Leadership SIG.
It is composed of a main introduction document which explains the foundation tools that are the basis of the Leadership Toolkit: The ACHE Leadership Competency standards, the AONE Leadership Competency standards, and the QSEN.
To get the full benefit of the Leadership Toolkit, users should have an active connection to the Web when viewing the files listed below.
The toolkit includes two grids that contain literature reviews which reference the foundation documents, and literature review grids also have links to other website items, and articles, and tools.
Visit the Leadership Toolkit (Members only)
Staffing Models and Acuity Call
Leadership SIG Call
October 20, 2017
In October, the Leadership SIG hosted a small group discussion on Staffing and Acuity Models. The video call lasted 1 hour and featured four great speakers (listed below).
Please let us know if you have any feedback and/or are interested in potentially participating in future calls. Attendees expressed interest in attending at the conference, and in follow up Community posts. This was a great opportunity for us to learn from each other. We look forward to hearing from you.
View the video call.
Speakers: Nanci Fortgang - Ambulatory Acuity Scale; Pam Del Monte - Workload; Mike Callahan and Jenna Butz - Ambulatory Acuity Model; Stacey Clark - Clinic Workload Assessment Tool.
---
Clinic Based Telephone Triage Models for Ambulatory Settings: Business and After Hours
Leadership SIG and Telehealth SIG Joint Call
April 7, 2017
On Friday April 7, 2017, the Leadership and Telehealth SIGs jointly hosted an open call for SIG members on "Clinic Based Telephone Triage Models for Ambulatory Settings: Business and After Hours," a timely topic that has been receiving much discussion in the AAACN Connected Communities. Nearly 200 members called in for the discussion.
Thank you to moderators Nanci Joseph Fortgang, RN MPA CMPE; and Susan Clelland, RN, MSN; Leadership SIG Chair Chris Ruygrok, MBA, RN; Leadership SIG Advisory Board member Cynthia Murray, BN, RN-BC; and Telehealth SIG Co-Chairs Maureen Phillips, RN, BSN, CSPI and Mary Jo Vetter, DNP, RN, AGPC, NP-BC, for organizing the call.



Note: please log in to your Connected Community account

before you click the link directly below to listen to the call.
Listen to the call (You must be logged in to your Leadership SIG Connected Community account.)
On March 18, 2016, Care Coordination and Transition Management (CCTM) experts and Leadership SIG members came together to hold a vibrant discussion on this important and timely topic in nursing.
We thank Leadership SIG Chair Chris Ruygrok, MBA, RN; AAACN President-Elect Deb Cox, MS, RN; David Cox, RN, BSN; and Harriet Straus, CRRN, BSN, MAOM for all of their hard work in putting this call together.
Close to 100 members dialed in, posted their questions in the Leadership Community, and heard from AAACN's CCTM content experts.
Listen to the Call (You must be logged in to the your Leadership Connected Community account.) Note: please log in to your Connected Community account before you click the link above.
Want to learn more? Visit the Leadership Connected Community (members-only).
Each SIG has been added to the Connected Community platform for all of your networking.
Members network via communities that provide archiving of discussions, a document library, search feature, digest options, and a customization profile for each member, and is mobile friendly.
2017-2018 Advisory Board Members
Chair
Christine M. Ruygrok
Christine.M.Ruygrok@kp.org
Vice Chair
Aileen Oh
aileen.d.oh@kp.org
Board Liaison
Kathy Mertens, MN, MPH, RN
Members
---
Past Leadership SIG Chairs
2015-2018 Chris Ruygrok, MBA, RN
2014-2015 Ria Ganary, MHA, RN
2013-2014 Diane Resnick, MPA, RN
2012-2013 Kathy Mertens, DNP, RN
2011-2012 Tricia Ruiz, MBA, RN, NEA
2010-2011 Peggy Church, RN
2008-2010 Margarita Gore, MBA, RN
2006-2008 Eileen Esposito, DNP, RN-BC, CPHQ
2004-2006 Janet Moye, PhD, RN, CNAA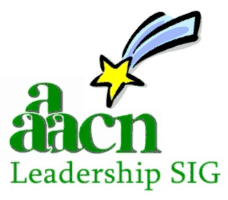 We continue to show our pride and loyalty to AAACN and the Leadership SIG by using our official Leadership SIG logo. You can order custom made shirts directly from the vendor anytime. Choose any size, color or style. The shirt can be ordered through the StitchinWaves Website.
During the checkout process, be sure to write the words "embroider with the AAACN Leadership SIG logo" in the comments field of the order form - or call the vendor directly at the number below.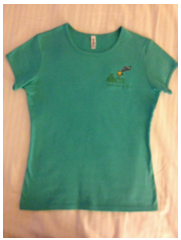 If you a specifically interested in the style we wore at the 2013 conference, it is provided below:
Style 1001 - Bella Tee
Color: TEAL
Custom embroidered with AAACN Leadership SIG logo.
Stitchin'Waves - stitchinwaves.com
Contact: Joyce Wright
Phone: (941) 929-1155
The Leadership SIG develops annual project goals that are tied to member feedback, AAACN Strategic Goals, and other imperatives, such as the IOM The Future of Nursing report and the AAACN position statement on The Role of the Registered Nurse in Ambulatory Care. Feedback from SIG membership is solicited in many ways.
Leadership SIG Survey Highlights
206 Leadership SIG members provided feedback and shared their own unique perspectives in the November 2016 Leadership SIG survey.
Members, from a leadership perspective, identified their top three challenges and priorities:
Implementing Culture Changes within an Organization (33%)
Managing by Data: The Importance of Tracking and Trending (31.6%)
(Tie) Staffing Models and Reporting Structures (29.1%); Clinical Procedures and Scope of Practice (28.2%)
Recruiting for a Diverse Workplace: Inclusivity (3.4%) was the lowest rated challenge/priority, followed by EMR and Staging of Orders (3.9%) and Fall Prevention/Mobility Assessments in Ambulatory Care (3.9%).
Leadership SIG members were also asked to topics they'd be most interested in attending a presentation on as part of the Leadership SIG session at AAACN Annual Conference in New Orleans, May 10-13, 2017. Ambulatory Triage Models, and Implementing Cultural Changes within an Organization represent the top two issues of interest (28.57% and 21.94% respectively).
Read the full report
---
Projects & Resources
Resources
Ask the Expert: Members of AAACN may submit their Leadership questions on Patient Centered Medical Home (PCMH) topics to members of the SIG who are considered experts on PCMH. Please allow up to five days to receive a response. Ask your question.
Current Projects
Primary Care Medical Home (PCMH): The Primary Care Medical Home Task Force is in the process of developing PCMH resources for AAACN members to use. As more information becomes available, we will share it through our Leadership SIG discussion list. To become a member of the PCMH Task Force, please contact m.gore24@aol.com or atjessie@carilionclinic.org.
Completed Projects
Leadership: The Leadership Toolkit is composed of a main introduction document which explains the foundation tools that are the basis of the Leadership Toolkit: The ACHE Leadership Competency standards, the AONE Leadership Competency standards, and the QSEN. View the Leadership Toolkit (Members only)