The Pediatric Special Interest Group, as a designated group within the American Academy of Ambulatory Care Nursing, identifies Ambulatory Pediatric Nursing as a key specialty within the AAACN.

The group's purpose is to support and promote networking opportunities for members who have a shared interest in Pediatric Nursing.

Looking for a Pediatric SIG event in your area?
Check out the Events page in the "Special Interest Groups (SIG)" tab.
Download

the latest flyer with new members and other SIG activities.
Who We Are
We are working hard to grow membership in AAACN and our SIG. If you know a great pediatric nurse, encourage him or her to join with our Member-Get-a-Member campaign!
How many PED SIG members are in YOUR state? You may also download the map!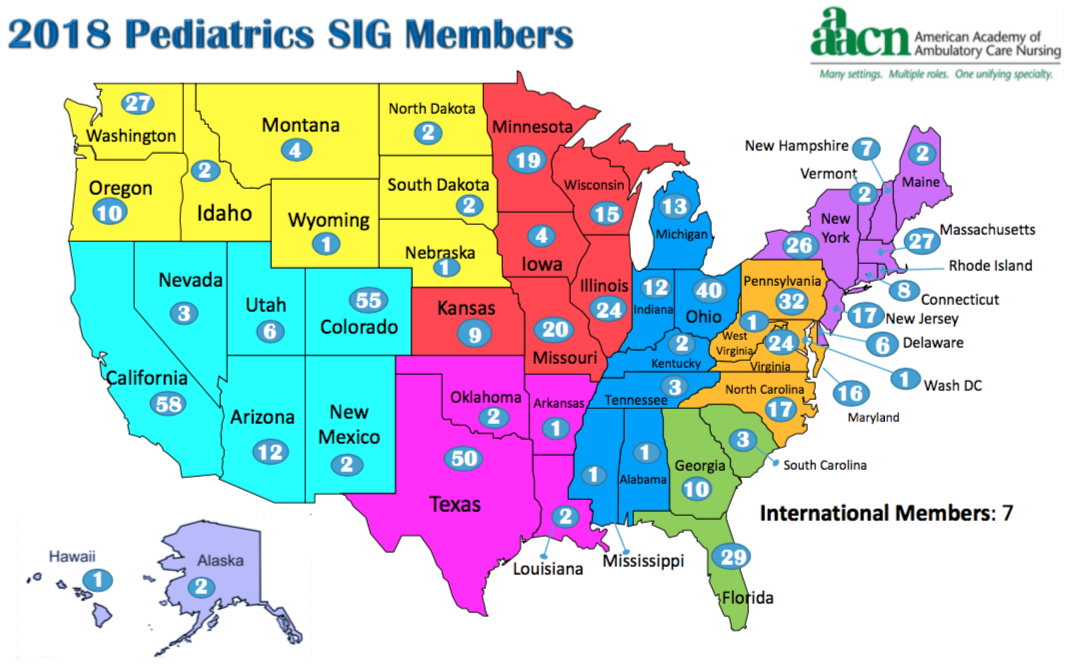 Goals
Serve as a voice for Pediatric Nursing within the organization.
Provide a forum to enable members to build collaborative relationships with each other.
Provide opportunities to work together on Pediatric initiatives.
Maintain a current member database of available Pediatric resources.
Members are always welcome to post a question at any time, as we strive to share best practice and great ideas. We hope you will join us in our journey to develop and support ambulatory leaders.
Welcoming New Members of the Pediatric Special Interest Group
November 2017:

Teri Aronowitz
Michele Bilak
Tennille Buck-Hooper
Cathy Leon
Robyn Lopez

Lorraine Macierz
Colleen Matzke
Kelly Miller
Sherrie Sanchez
Pediatric SIG Connected Community
Each SIG has been added to the Connected Community platform for all of your networking.
Members network via communities that provide archiving of discussions, a document library, search feature, digest options, and a customization profile for each member, and is mobile friendly.

Find out more about the AAACN Connected Community

Meetings
There are no meetings scheduled at this time.
Note: Pediatric SIG meeting was held on January 20, 2016. Download the presentaion.
Current Projects
AAACN Annual Conference
Join us for our annual in-person meeting at the AAACN Annual Conference in Lake Buena Vista, May 9-12, 2018! At our Pediatrics SIG session we will discuss SIG leadership changes and meet members of the SIG, which serves as the voice for pediatric nursing in AAACN. If your practice involves caring for infants and children, join us and network with other AAACN members who are interested in pediatric nursing.
Pediatrics SIG Survey Highlights
A recent Pediatrics SIG survey with 36 respondents explored the similarities and differences between members' strategies, practice settings, measurement tools, and more.
A majority of respondents (63.89%) used Press Ganey in their practice to evaluate patient/family satisfaction/experience data. Half of the group identified organization-wide initiatives as their strategy to enhance their scores, and 19 members provided thoughtful answers to the open-ended response question regarding successful tactics in efforts to enhance patient/family experience measures.

View the report
Annual Conference
Discover what this SIG was Talking About at the Annual Conference.

Obtain the proper code for your SIG.
SIG Leadership
Co-Chairs
Chair-Elect
Board Liaison
Kathleen Martinez, MSN, RN, CPN