The Tri-Service Military Special Interest Group (SIG) is a dynamic, diverse group of military and government nurses.
The Tri-Service SIG has been active for over 26 years. Its members have a variety of clinical backgrounds, including inpatient/outpatient, large, and small facilities.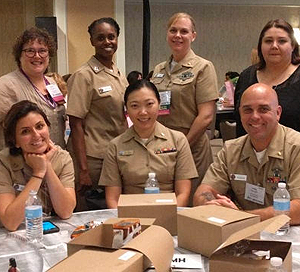 Tri-Service Military SIG members.



Our military services missions provide our nurses with a variety of unique skills. A member from each of the services is selected to represent their corp in SIG leadership.
The Tri-Service Military Special Interest Group is not a separate organization, but a subgroup under membership of AAACN. SIG membership is free, but you must be a member of AAACN to join. Those who participate in conference coordination are encouraged to become members of AAACN, as well as nurses who attend the military pre-conference.
All military nurses, DOD civilians, Veterans Affairs and other uniformed services nurses are invited to attend the annual Tri-Service Military SIG conference event.
We are facing culture changes with our patients and staff as we all move forward and embrace Patient Centered Medical Home model practices. We will continue to share concerns, recommendations, and solutions to implementation that will aid in providing safe quality care in our daily practices.
Read a Tri-Service Military Article in ViewPoint. ViewPoint, the official publication of the American Academy of Ambulatory Care Nursing (AAACN), is a peer-reviewed, bimonthly publication for nursing professionals.