Are you a registered nurse in an Ambulatory care setting? Discover how AAACN supports nurses like you!
We invite you to connect with a dynamic network of professional nurses who will inspire your passion for ambulatory care nursing. Our members have the same goals and face the same challenges as you, and they generously share their experiences and best practices.
When you join our community, you'll experience camaraderie that is unmatched. AAACN understands, appreciates, and supports you in your unique role as an RN in the ambulatory setting. With our resources, you will enhance your knowledge and expertise, polish your leadership skills, and advocate for your specialty.
You will have the tools you need to energize your career and meet your patients' increasingly complex needs.
AAACN members are nurses like you who practice in many settings

• Managers and supervisors
• Administrators and directors
• Staff nurses
• Care coordinators
• Educators
• Consultants
• Advanced practice nurses
• Researchers
• Hospital-based outpatient clinics/centers
• Solo/Group medical practices
• Telehealth call centers
• University hospitals
• Community hospitals
• Military and VA settings
• Managed care/HMOs/PPOs
• Colleges/educational institutions
• Patient homes
• Free standing facilities
---
Join us and enjoy the rewards
Use AAACN to connect with others and gain knowledge you will apply immediately to your practice.
Connect with a community of ambulatory care colleagues
"I am so proud to be a
member of this organization.
It identifies a problem, seeks
a resolution, and makes a
difference for everyone!"

~Annette Hamlin, BSN, RN Navarre, OH.
Boost your knowledge and build your practice
Develop your leadership skills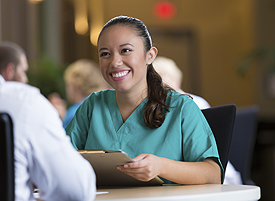 Advocate for your specialty
Considered one of the best online sources for education in ambulatory care nursing. Earn contact hours from a vast array of conference sessions, articles, publications, webinars, and more.
---
Membership
The AAACN mission is to advance the art and science of ambulatory care nursing.
When you join, you will belong to a diverse community of nurses dedicated to one unifying specialty – ambulatory care nursing.