Read a message from the AAACN President Anne Jessie and scroll down for links to COVID-19 information, resources, webinars, and more.
Dear Ambulatory Care Nurses,
As we continue to navigate the unprecedented health care crisis that is the COVID-19 pandemic, I wanted to share a note of encouragement and support and highlight the resources for coronavirus management that AAACN is providing to you.
We recognize that you continue to face the uncertainty of COVID-19 outbreaks, requiring you to expand and contract services while developing innovative ways to care for your patients. Your work must continue as you provide quality patient care and provide ongoing support for the staff that you lead.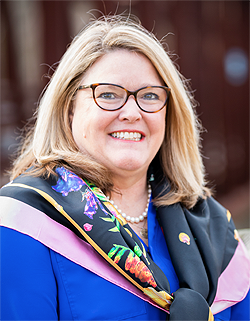 The AAACN Board of Directors and staff want you to know we are thinking of you constantly, wishing you health, safety, strength, and perseverance. We're so thankful for the work you do under normal circumstances, and even more grateful for your incredible leadership during these challenging times.
The pandemic has intensified the need for ambulatory care nurses like you to maintain a connection to AAACN and to our community. We encourage you to continue to access your AAACN member benefits, including the Connected Community, Special Interest Groups (SIGs), AAACN publications, and online members-only resources. See how you can get involved with AAACN member activities!  
We also encourage you to watch the webinar Telephone Triage and COVID-19 that is available free to everyone.
As we launch AAACN 's first virtual conference, we have infused COVID -19 content into key conference sessions. We are also showcasing how ambulatory care nurse leaders, representing diverse care settings, have led their organizations in pandemic response during our virtual Town Hall on August 11, 2020.
Following the conference, all sessions will be available in the AAACN Online Library where conference attendees will be able to earn CNE contact hours for 2 years.
In the Connected Community, AAACN's online networking community, you can connect with fellow ambulatory care nurses who are facing the same challenges as you right now. Members are sharing their experiences providing care post-COVID, setting up flu clinics, planning virtual skills days for staff, implementing COVID-19 telehealth protocols, and so much more.
Go to the Connected Community now to read and participate in these discussions. If you are not already part of a SIG community, you can join immediately when you log in.
We are also making members-only monthly free CNE sessions available for extended times. Normally, the free CNE session is available for just one month; however, in light of COVID-19 and the extra demands it may have placed on your time, free CNE sessions starting with March 2020 will be available to you through the end of the summer in the AAACN Online Library.
AAACN is here for you, now and as we transition to ambulatory care nursing practice that is the future. Should you have questions or if there are other ways we can help you, please don't hesitate to contact us at aaacn@aaacn.org.
Update Nov. 18, 2020: AAACN President Anne Jessie urges President-Elect Biden to consider adding registered nurses, particularly ambulatory care nurses, to the Coronavirus Advisory Board to strengthen and augment the team of experts that has been gathered to address this public health crisis. The letter is also being posted on AAACN social media channels and we encourage you to share widely. Read the letter.
AAACN President Anne Jessie
AAACN Board of Directors
AAACN National Office Staff
---
COVID-19 Resources