A task force has just completed revisions for the Guide that serves as a valuable resource for orienting nurses to ambulatory care as well as developing comprehensive competency assessment programs.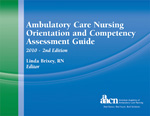 A wide selection of age specific and specialty care topics are covered, including telehealth.
The new guide contains many enhancements:
updated content from the previous book with definitions, Key Tips, and examples;
chapters on nurse educator competencies, defining the educator's role in ambulatory care and providing guidance and tools for use in developing needed competency;
a toolkit for transitioning to ambulatory care with many helpful links and resources;
an appendix containing sample orientation and competency tools that will help you develop your own tools.