Date:
Thursday, September 17, 2020
Mary Wissman, BSN, CCCTM, CCNE, was recently honored for her service to her community, the VHA, and our nation.
Captain Wissman served in the US Army 2008-2010, stationed in Afghanistan, where she treated soldiers and civilians on the front lines. During her tour, she endured a suicide bombers' attack on her unit that lasted more than 48 hours.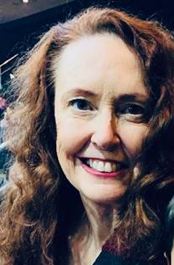 She cared for patients during the initial bombing, and for those wounded as a result of the ongoing bombing. During the evacuation, she duct-taped survivors' medical records to their chests so they would travel with them back to the US. She was awarded the Bronze Star for her heroic efforts in the service of her nation.
Upon discharge, she sought out ways to support her fellow veterans, joining the VA in 2016 as part of the Wilmington Delaware primary care team, where she established structure and processes that enabled her site to establish the first Community Based Outpatient Clinic (CBOC) in the Veteran Integrated Service Network (VISN) 4 to provide prosthetics services outside the main facility.
The first VA Care in the Community (CITC) nurse navigator to work in the CBOC setting, she formed a deep connection between the VA and the private sector in support of coordinated care.
She led the nursing team supporting Atlantic City's inaugural "Stand Down for Homelessness" outreach program in southern New Jersey. She also partnered with South Jersey community providers in suicide prevention efforts, co-organizing "Flags for the Forgotten," a VA display at her CBOC with local VSOs to bring awareness to the 660 Veteran suicides every 30 days.
Ms. Wissman recently deployed to the East Orange VA facility's critical care units during the COVID-19 crisis. Upon her return, she led the operations of her local VA clinic in support of management during the VA/FEMA SJ Strike Force endeavor to the Southern New Jersey Civilian Nursing Facilities as part of the VA's 4th mission.
Her efforts in support of the local VA clinic operations enabled the local management team to attend to over 150 VA nurses from around the nation who came to serve Atlantic County, New Jersey.
Note: (Link accessible by VA employees only on internal VA network)
---
This article is also featured in Health Bytes.