Telehealth Nursing Practice Essentials is a comprehensive resource that details the necessary information for safe, competent practice of telehealth nursing.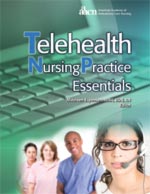 It includes a culmination of topics essential for nurses new to telehealth practice, experienced in telehealth and for those interested in expanding their knowledge base.
Key information is presented including the nursing process, focus, roles, legal, communication, customer service, technology, clinical decision tools, documentation and clinical information for the nurse to have an-depth understanding of the telehealth nursing scope of practice.
This text book is ideal for understanding practice issues related to telehealth nursing and developing the skills necessary for successful telehealth practice.
You can also use the Telehealth Nursing Practice Essentials to prepare for the ambulatory care nursing certification exam, which has been enhanced with telehealth content.